A new projection screen film technology that has been optimized to transmit 50% of the received light while reflecting the other 50%.
When applied to an acrylic panel and suspended in the middle of an open space, video of equal brightness and quality can be seen from both sides of the hanging panel for a 360° viewing experience with no heavy equipment hanging overhead.
For traditional rear-screen applications, DUPIC is superior to conventional film materials in that it provides even corner-to-corner light distribution without hot-spots.
[custom_list style="list-1″]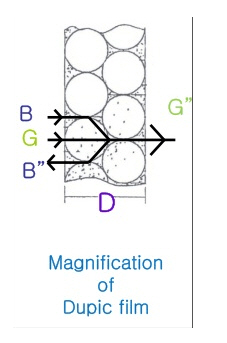 A film screen with two times improved refractive index
Fiber optics powdered surface at the molecular level
This film has a two-times improved refractive index which makes the image refracted equally (1:1) from a projector on both directions. Fifty of the projection light (G) goes through the film (D) to the other side (G -> G");  the rest of the light (B) is refracted inside of the film and bounces back toward the projector.  (B -> B")
Same high resolution, wide viewing angle (180°), and no hot spot on both refracted and transmitted image. [/custom_list]
[custom_list style="list-4″]
Patents registered : USA, UK, China, Korea, Japan
Award-Winning Technology (CES Innovation)
Related Product :
[/custom_list]